Some of the links below are affiliate links, meaning, at no additional cost to you, we will earn a commission if you click through and make a purchase.
A .177 caliber air rifle has been the popular choice of many pellet rifle enthusiasts, being the smallest among caliber kinds, plus it can be shot at maximum velocities at superior accuracies. If target shooting is your chief preoccupation, a .177-caliber model like the Benjamin BSSNP27TX will surely pique your interest.
Specifications
Eva Shockey is a known air rifle enthusiast and a big game huntress, and this model is her trademark rifle. It is recommended for game and pest control and is one of the most powerful units from Benjamin's Shockey Signature series.
Its specifications are as follows:
.177 caliber
Nitro Piston 2 powerplant
Up to 1150 fps lead pellet velocity
Up to 1400 fps alloy pellet velocity
Break barrel action
45.8 inches overall length
8.0 lbs. overall weight
Steel rifled barrel
30 lbs. cocking effort
20 FPE
Dovetail mounting rail
2-stage trigger
Ambidextrous/Soft-touch stock style
4 x 32 mm. optics rifle scope
Safety lever
1-year limited warranty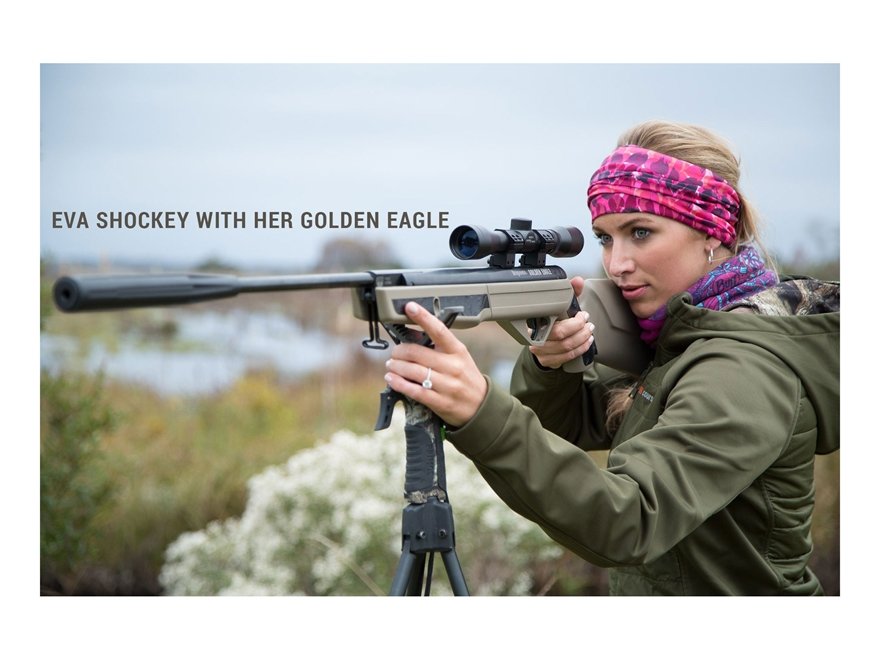 Features
The Crosman company is a known company celebrated for its design and manufacture of shooting sports products. The firm has been in the business for a long time and is highly thought of for its foray into airgun design and sourcing first-rate air rifles, pistols and pellets. Crosman is also known throughout the world for being the chief producers of a wide variety of pellet rifles, airsoft guns and ammo plus CO2 powerlets.
The Benjamin BSSNP27TX features the topnotch Nitro Piston 2 powerplant to provide tons of speed, power and accuracy with minimal cocking effort. Its Monte Carlo stocks are ergonomically designed and includes distinctive, custom built soft touch inserts plus a sleek two stage Clean Break trigger. In addition, the model also features sound suppression for quieter, faster sure shots.
This pellet rifle promises to provide smoother cocking, shooting and no spring torque and fatigue. It can be operated during the colder seasons of the year and is said to be more durable than metal springs.
Pros
Many buyers of this airgun were satisfied with its ease of handling and accuracy. Quite a few have claimed that it was an excellent pellet rifle for pest control. A users said that the purchase was good value for his dollar; it was hard-hitting, includes the Nitro Piston 2, accurate, it provides manageable cocking effort and the model overall had a nice feel.
Users also said that they like that the model adapted accordingly to a rifle scope upgrade. Others will recommend the rifle because it is quiet to operate and is a nice pellet rifle to practice on especially if you have neighbors close by.
Cons
One user said that the quality of the model was topnotch and it worked excellently but its downfall was its weight. It weighed a robust 8 pounds, which can be a pain to carry about or operate without stopping to rest. The user also added that cocking its break barrel take some effort thus the model is not recommended for teens and smaller individuals. It's very easy to use and the owner's manual is very explaining as well.
Final Verdict
There a lot more praises than complaints, thus according to the majority, this air rifle model is actually worth the purchase. Its inclusion of Nitro Piston 2 technology merges strong shots with minimal cocking effort and excellent precision. Because this pellet rifle does not rely on standard coiled steel springs and instead uses a nitrogen-packed gas piston, the model puts forward .177-caliber alloy pellets at speeds up to 1400 fps.
The model's sound suppression is a winning point; it minimizes noise to allow shooters to acquire subsequent shots at smaller targets or to fire down on multiple targets in just one sitting. The fact that it was endorsed by a famed airgun aficionado and big game enthusiast, Eva Shockey, is also a nice selling point.