Some of the links below are affiliate links, meaning, at no additional cost to you, we will earn a commission if you click through and make a purchase.
Buying an air pistol can be a pain at times because of the wide choices available. But you can make your search easier by first looking at the models recommended by long-time enthusiasts. We have the Gamo PT-85 as an example; this air pistol is praised for its highly-inventive take on the blowback feature which makes the piece a semi-automatic model and the action it produces is almost parallel to the real thing.
The pistol is operated by means of CO2 and it claims to fire away the brand's platinum pellets at an FPS of 450. Read on and see our take on this much talked-about piece.
Specifications
CO2 mechanism
177 caliber
450 FPS
16 magazine capacity
Semi-automatic
Rifled barrel style
Weaver mount rail
5 lbs. total weight
8-inches total length
Blowback feature
Features
The Gamo PT-85 blowback air pistol is not an imitation of any available pistol but its appearance closely resembles one. It has the design of a genuine weapon and will mislead any newbie who is not familiar with air pistols. The blowback feature, durable plastic structure of the gun and various details makes this one seem like the genuine item.
The piece's plastic grip has a textured surface and it provides a secure grip plus it has a fast reloading magazine that is capable of carrying 16 rounds of pellets simultaneously. The unit has a rifled steel barrel and good precision and its standard black model includes an 11-cm steel barrel which is either scored or rifled. For realistic action, the barrel of the gun pulls back to commence its blowback functions.
The PT-85 air pistol of Gamo is lightweight at 1.5 lbs and is 7.8 inches long. Its pistol grip can be taken away to uncover the CO2 slots and it also hides the tightener screw for the CO2 which augments its nearly-authentic appearance. It also features a manual safety clasp which is positioned directly above the pistol grip.
The Gamo PT-85 does not require cocking and the magazine can carry 8 pellets on one side and 16 all in all plus you won't be required to get hold of the pellets or break the barrel open each time you fire away. This will prove handy while you are doing pest control rounds in your area or target practice.
Gamo's straightforward blowback mechanism is composed of a bolt that is moved backward with the power produced by the carbon dioxide. The trigger pull of the PT-85 model feels light and nimble; the initial pull revolves the magazine and moves the pellet forward into position. It gets even lighter with each usage and users might get used to that feeling.
Users are allowed to utilize the double-action but the trigger pull for this move can be a tad heavier.
The Gamo PT-85 pellet air pistol's blowback system is the reason why a lot of enthusiasts have recommended this model. It is common on a lot of smaller guns and it provides easy, faster reloads. This method is also a great way to train yourself before using a real firearm.
It operates by way of CO2 cylinders and it makes use of both single and double-action mechanisms. The PT-85 model is a good air pistol of Gamo to use for plinking or target shooting (up to 30-40 yards). Even though it did not reach its target at 50 yards of distance time and again, the velocity is guaranteed to decline following several more rounds due to the drop in the pressure of the CO2.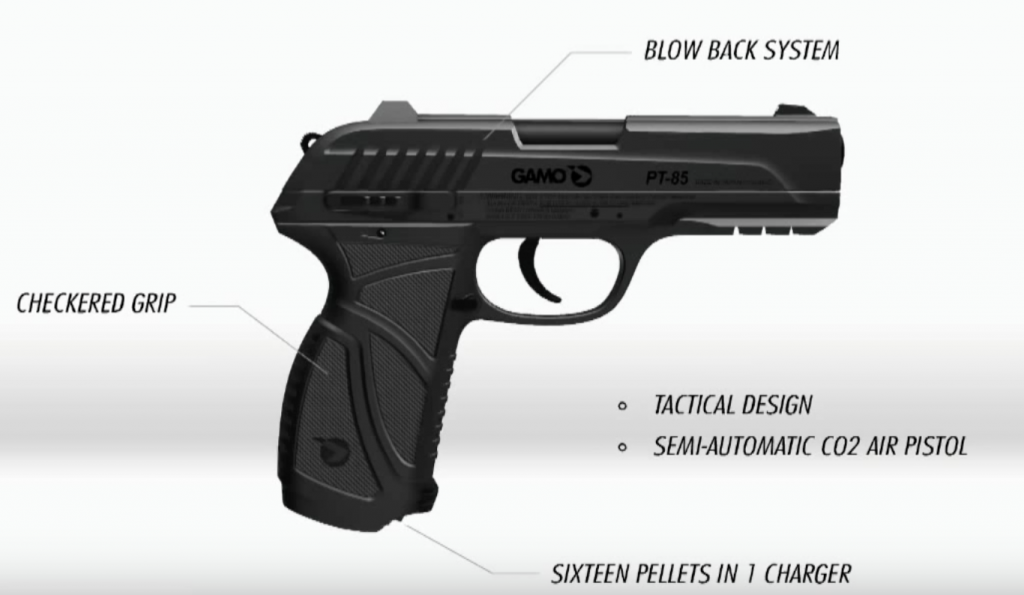 Pros
Features blowback mechanism
Has a decent weight, feel and overall great appearance
Provides decent force and accuracy
Features a lower barrel
Durable and built with sufficient amounts of metal material
Cons
Sights can be tricky to adjust
Does not include a slide catch release
Velocity declines following a number of rounds
Requires CO2 refills
Final Verdict
The PT-85 by Gamo is perfect for your target shooting and plinking activities. It is an affordable find and its feel, appearance and weight makes the whole unit look like a real gun. If you are still searching for a plinking or pest control gun, you don't need to look further since this model will do the job with ease.